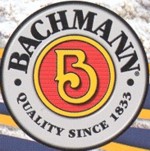 BACHMANN:
G Scale trains and accessories.

This product is made in China and includes a range of American outline locomotives,
passenger coaches and rolling stock.

The Company produces both a budget product known as Bachmann Large Scale & their Spectrum
Large Scale range which has greater detail, better features, electronics etc.

We carry a range of Bachmann Garden Train Products in stock.
To inquire please email. admin@trainsforthegarden.com

Please note that the prices quoted on the Bachmann
web site are in $ US.