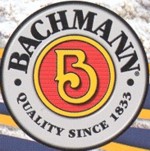 BACHMANN:
G Scale trains and accessories.

This product is made in China and includes a range of American outline locomotives,
passenger coaches and rolling stock.

The Company produces both a budget product known as Bachmann Large Scale & their Spectrum
Large Scale range which has greater detail, better features, electronics etc.

We do carry a large range of Bachmann Garden Train Products in stock.
To inquire Please email .
Email: admin@trainsforthegarden.com

If we don't have what you are after, if it is available, we can try to get it in for you.
Please note that the prices quoted on the Bachmann
web site are in $ US.